June is only halfway done, but if your past few weeks have gone anything like mine, you've spent your days seeking shade or air conditioning to escape the sticky, hot weather. Growing up these hot days always came with the silver lining of popsicles and ice cream–why should growing up take that treat away? Making popsicles at home is actually incredibly easy, so why not take the treats from your childhood summers and simply spike them for an adult version? Just grab your Balls Vodka, whip together one of the recipes below, freeze, and enjoy! 
Before you get started, here are a few helpful tips:
A funnel or a measuring cup with a pour spout is helpful when filling ice pop molds

Leave room in the molds for expansion when frozen

Silicone ice pop molds allow you to just peel them away from the frozen popsicles and prevent the frozen treats from getting stuck! Amazon offers a variety of styles from

traditional

to

compact

to

tubes

reminiscent of  freeze pops from childhood

But… no silicone mold, no problem! Take the frozen pops out of the freezer for a few minutes and gently tap/wiggle the popsicles out. You can also place the mold in hot water to make it easier to remove the ice pops — careful not to melt them though!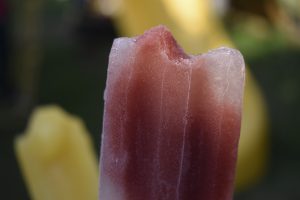 1 ½ cups cranberry juice
¼ cup lime juice
½ cup vodka 
¼ cup triple sec
¾ cup lime juice 
½ cup vodka 
2 Tbsp honey
Ginger simple syrup (recipe follows)
12 oz ginger beer
*Ginger Simple Syrup 
⅔ cup water
⅔ cup sugar
2 inch piece fresh ginger
(boil water and sugar until sugar dissolves, boil for 5 more minutes, remove from heat, add ginger, and steep for 30 minutes)

9 chunks fresh watermelon
4 fresh mint leaves
½ cup vodka
2 oz lime juice
1 ½ oz mint simple syrup 
1 cup ginger beer
Muddle mint and 4 watermelon, add liquid ingredients and stir well, add remaining chunks to popsicle sleeves, freeze
2 cups tomato juice
1/2 cup vodka
2 Tbsp Worcestershire sauce
1 Tbsp pickle juice
2 Tsp hot sauce (i.e. Tabasco) 
Juice of 1 lime
5 Celery sticks (in place of popsicle sticks)
Flaky sea salt and Old Bay seasoning for garnishing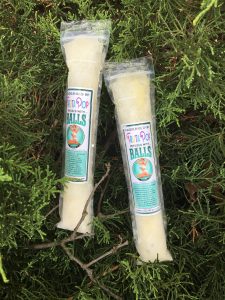 1 ¼ cup vodka
1 ¼ cup gummy bears
3 cups Sprite, Ginger Ale, etc. 
Soak vodka and gummy bears in a bowl for 24-72 hours. Separate and strain ⅓ out of the mixture and place into the bottom of your molds. Pour Sprite over bears until they are just covered (⅓ full) and freeze for 60-90 minutes. 
Add the popsicle sticks, a second layer of strained gummy bears, and soda. Freeze again. Repeat a third time or until the popsicle molds are full! 
A black tea bag 
1 ½ cups water (boil and brew the tea) 
1 Tbsp maple syrup (add to tea)
Juice from 2 lemons
¼ cup vodka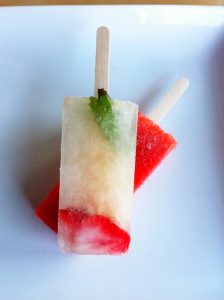 1 ½ cups lemonade
½ cup vodka
6-8 strawberries
(either blend ingredients or place strawberries into molds and pour over liquid ingredients, mixed)
2 cups orange juice
½ cup vodka
6 oz puréed strawberry (about 10 strawberries)
2 oz peach syrup (recipe follows)
12 oz tonic water
2 oz vodka
3 oz vodka
(Stir strawberry purée with 2 ounces of vodka and place at the bottom of the molds, allow mix to set in the freezer. Mix peach syrup with tonic water and remaining 3 ounces vodka. Pour peach and vodka mixture over strawberry mixture and stir to combine. Freeze for 2 hours, then insert popsicle sticks. Continue to freeze overnight.)
*Peach Syrup
1/2 cup peeled and sliced peaches (about 4 medium-size peaches)
1 cup water
1 cup sugar
(Purée in a blender, place all ingredients (incl. peach purée) in pot and bring to boil, continue to boil for 5 minutes.)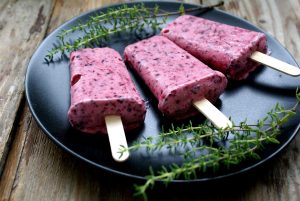 2 cups Rosé (can be bubbly or flat)
1 cup lemonade
2 cups vodka
Hopefully these 10 frozen, boozy treats will keep you feeling refreshed and ballsy for the rest of this summer. If you have other vodka poptail ideas let us know below and be sure to tag us in your stories and photos if you give any of them a try!