The Moscow Mule has been a beloved vodka cocktail as far back as 1941 when Sophie Berezinki, a Russian immigrant brought her 2,000 of her father's unique copper mugs to sell in the United States. Vodka was actually not particularly popular in the U.S. at this time so Sophie teamed up two men she met at Cock 'n' Bull pub to rebrand the spirit through the perfect combination of vodka and ginger beer housed in her solid copper mugs that kept the drink cold. Thus, the Moscow Mule was born.
The Ballsy Moscow Mule is one of our team's personal favorites, but sometimes a classic needs a good shake up to keep things exciting…
Classic Moscow Mule
Balls vodka
ginger beer
lime juice
*bonus: copper mug!
Looking at the classic recipe we all know and love, the drink is known for its delicious fizz, fresh lime, and strong ginger flavor. They're refreshing and strike that perfect balance of sweet, spicy, and strong. However, here are some simple ways to switch up, elevate, or otherwise alter this familiar cocktail!
Strawberry Moscow Mules

Here's a simple one to start–you only need 4 ingredients.
2 oz Balls Vodka
4-6 oz Ginger Beer
1 oz fresh lime juice
5 Strawberries
Muddle strawberries and lime juice together in your cup. Add vodka and ice to fill and top with ginger beer. Garnish with strawberries or limes! (Optional: add thyme sprigs for a more earthy taste)
*This recipe is just as delicious with Cherries and Raspberries in place of the strawberries! Simply measure to your liking and garnish well (see previous article)
Grilled Pineapple Moscow Mule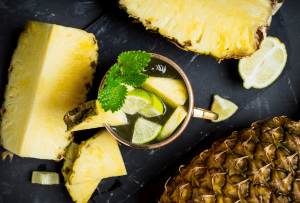 1.5 ounces Balls Vodka
1 ounce fresh lime juice
1 ounce pineapple juice
3 ounces ginger beer
1 mint sprig
1 grilled pineapple slice
Combine vodka with the lime and pineapple juices in a cup filled with ice. Stir to combine. Garnish with a grilled pineapple slice and a mint sprig.

2 oz. Balls Vodka
Juice of 1 lime, freshly squeezed
6 oz. ginger beer
Juice of 1/2 of 1 blood orange, freshly squeezed
A drizzle of pomegranate syrup or molasses
Combine lime juice and blood orange juice into a cup then add ice. Pour in vodka followed by ginger beer, finishing with a drizzle of the pomegranate syrup or molasses on top and an optional garnish of fresh mint or rosemary.
Peach Moscow Mule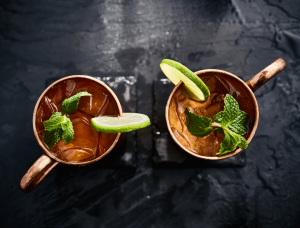 2 oz Balls Vodka
2 oz peach nectar or juice
3-6 oz ginger beer
1/2 oz fresh lime juice
Lime slices, Peach slices, or Candied ginger for garnish
Fill your cup with ice. Pour in your peach juice, ginger beer, then the vodka and lime juice. Garnish as you desire and enjoy cold!
Frozen Moscow Mules

33.6 ounces ginger beer (three bottles of ginger beer)
2 cups Balls Vodka
12 fluid ounces frozen limeade concentrate
*Please note that this is for a group serving!
Mix all of the ingredients together in a freezable container or bowl. Freeze overnight. Let the mix sit and thaw out of the freezer for about 20 minutes or until it is easy to scoop then serve and enjoy!
With all these recipes remember to garnish well and enjoy with friends or family! Try these or take your own creative spins on the classic Moscow Mule and send in your creations to Balls Instagram (direct message) or email!
Cheers!