While our last post on eye-catching ice is as on-brand as ice can be for Balls Vodka, we couldn't stop there. We owe this segment to the queen of cooking herself, Martha Stewart, who posted a great step by step tutorial on floral ice on her website. 
Floral ice elevates already stunning cocktails by capturing beautiful flowers. And here at Balls Vodka, we love that look (just check out the pretty drinks on our TikTok)! Should you be willing to let the cube melt and dilute your drink, watch it spin around in your glass delicately. Needless to say, we had to highlight these pretty ice cubes as an additional or alternative to regular ice.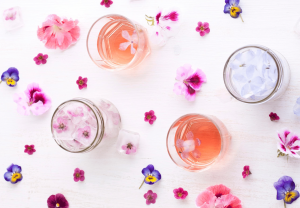 What do you need? 
Edible flowers

Ice Tray*

Water (duh) 
*Silicone ice trays work best if you have one available or are looking to purchase a fresh one! If you don't have one a regular plastic tray works all the same for floral ice.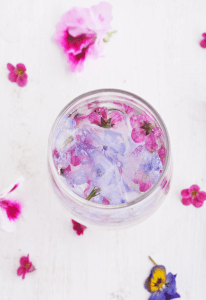 Now, how to do it?
Martha (and all other sources we saw) recommend working in layers: Fill an ice tray a quarter of the way with water, add flowers facing down, and freeze. Add more water to fill halfway and freeze.* 

To make nearly crystal clear ice, use boiled water rather than tap. (Boil water then allow it to cool) This takes away impurities and air bubbles found in cloudy ice. 

Finally, for your flowers be sure to use edible ones that have been washed!! (see below)

Serve within 2 weeks
Which flower to use? 
You may be thinking only in terms of appearance and aesthetic, which is completely fair. However, consider that these flowers come with their own flavors and so will slightly impact the drink as the ice melts. Here are some great, easy to find edible flowers with a brief description of how they taste thanks to gardentherapy.ca!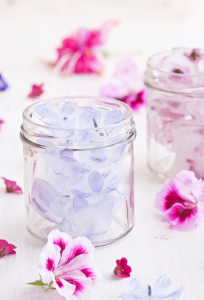 Nasturtiums
All parts are edible (petals, leaves, and seeds). They are peppery and spicy in flavor–something like watercress and radish. 
Their color range is "reminiscent of a brilliant sunset" with oranges, reds, and yellows most prevalent. 
Roses
These are sweet with a slight spice. The intensity of flavor for roses depends on the type, color, and soil conditions so do an extra google if you know what you have on hand, but its safe to assume the darker the petals, the more pronounced the flavor. Also! Be sure to remove the bitter white portion of the petals before adding them to your ice. 
Calendula 
This flower has a large range in taste from spicy to bitter and tangy to peppery. What's fun to note about this is that it's a skin-healing powerhouse! It comes in shades of yellow or orange and often will add a yellow tint to your food.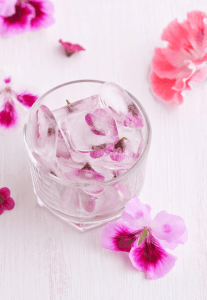 Daylily
With a mild vegetable flavor, these make nice subtle additions to cocktails. However! Be sure you are using a daylily as other lilies can be toxic and make you ill. They come in a variety of colors like yellow, orange, purple, and white, and all are edible, but be sure to remove the white base before you eat them.
Lavender 
It's no secret that lavender is edible, soothing, and just shy of containing magic properties. They taste floral and are quite distinct. With lavender, a little goes a long way so use sparingly!
Echinacea
This is another medicinal herb, best known as a home remedy for colds. The petals are edible and will add color to your ice for sure!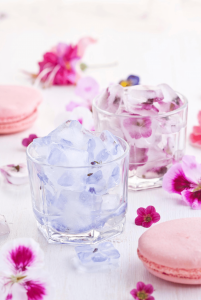 Squash Blossoms
If you have a home garden, these should be pretty easy to find. The name gives away the taste of this yellow flower which should look cute in your ice. 
Dandelion
While any gardener hates seeing these pop up in their lawn, the mellow dandelion is entirely edible and makes for a pretty stunning ice flower. The blooms taste sweet when picked young, with a honey-like flavor. More mature blooms come with a bitter taste, so we recommend avoiding those! 
Viola (Pansy, Viola, & Violets)
These flowers are sure to add brightness to your ice. We can't even list the colors as there are so many–but expect bright, beautiful vibrancy. Their sweet, grassy flavor makes for an interesting addition to any drink.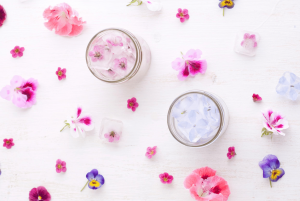 Hopefully, these recommendations have helped you brainstorm some drink ideas. Perhaps a Balls Vodka lemonade with some lavender ice cubes? Share with us any creations you come up with on our social media or email (info@ballvodka.com)! Of course, double check that any flowers you chose are edible as this is just the beginning.