The Fourth of July is one of the best days of the summer. What's not to love about huge gatherings with friends and family filled with music, fireworks, grilling, and buckets of ice-cold booze? However, recent circumstances have put the "huge gatherings" aspect of the Fourth on hold, making this summer look different than most. Truly looking at the past month alone, it's pretty clear 2020 hasn't been an easy year for our country so an excuse to drink, eat, and be merry with those we love might be exactly the sort of break we need right now. 
The question remains… how can we make the Fourth this year mirror years prior? Sure, we can still fire up the grill with the best red, white, and blue recipes and figure out how to watch fireworks virtually, but most of us could really use a good shindig with our extended family and friends. So here are a few ways to keep the holiday Red, White, and Ballsy this year!
FIREWORKS
Fireworks are arguably the backbone of the 4th. This year many iconic displays have announced that they will not be hosting their annual shows due to the coronavirus. Rather than be upset, grab your sparklers and add these ideas to your personal parties for a new take on fireworks. 
Firework Cocktails
Do you remember the fun candies from your childhood which you'd set on your tongue and they'd go off like fireworks? For these firework-inspired drinks simply rim your glasses with Pop Rocks and you'll the same treats!  
Firework Cosmo — to add some red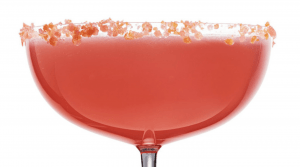 Watermelon or Strawberry Pop-Rocks, crushed for rim
2 tablespoons lime juice
3 ounces cold Balls Vodka
1/4 cup unsweetened pomegranate juice
1 ounce Cointreau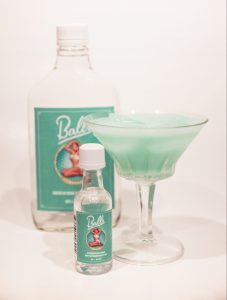 Firework Kamikaze Shot — for a bit of blue
Pop Rocks and Corn Syrup for rim
Balls Vodka (1 part)
Blue Curacao (1 part)
Lime juice (1 part)
Televised
Cities with usually huge displays of fireworks have already begun to announce they will be virtual to minimize large gatherings. If your town is not allowing people to view from a distance here are some that have announced a virtual display!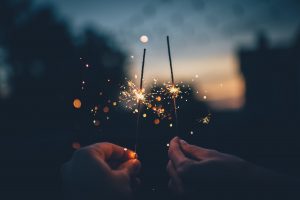 Boston will be broadcasting a day full of new and traditional music, recordings of past fireworks, and more all in tribute to the COVID-19 frontline workers and honor those who have lost their lives during the current health crisis, while also celebrating our diverse nation's founding values of liberty and justice for all. 
Other planned broadcasts include Philly and Nashville so no matter where you are, you will be able to watch the fireworks on the big screen and sip your sparkling cocktails, feeling like you are actually there.
Many of these historical places also are offering virtual tours of their locations. Take a walk around NASA, the Smithsonian National Museum of American History, George Washington's Mount Vernon, and the Statue of Liberty in honor of this holiday before fully starting your festivities
FESTIVITIES
Of course, we recommend firing up your grill per tradition and making those summer classics we all enjoy, but if you are still mindful of how many people you are gathering with or you cannot travel to meet those you want to celebrate with then here are a few ways to keep the holiday spirit alive and well!
Porch Potluck
Rather than having a large gathering in a smaller space with your friends and neighbors, suggest everyone bring their own food (& drinks!) to a large porch or backyard potluck style. Whether you choose to share the food or not, this eliminates some of your prep work and ideally spreads everyone out in the space chosen. 
Hotdog Eating Contest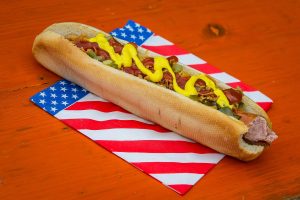 With the word out on whether or not Nathan's famous hotdog eating contest will go on as planned this year, plan your own! This could spark a new tradition for those of you who don't have access to such Fourth festivities. All you need is a table, some plates, and of course… hotdogs! Have fun recording your friends and family hilariously competing to shove the most in their mouths. This will surely make your Fourth memorable.
DECOR
There are countless easy DIY decor hacks that will immediately elevate your space and brighten the party. A quick Google will lead you to centerpieces, tin can windsocks, banners, decorated mason jars, and more. Here are a few we pulled from Pinterest: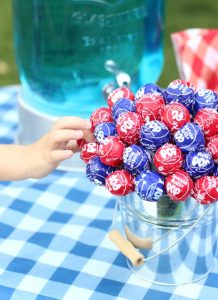 This is a simple but cute trick that adds some holiday colors and sweets to your table. It's perfect for right now because the wrappers keep all the treats sanitary yet allow us to still share! All you need is a bag of lollipops, a styrofoam ball, and some sort of bucket to keep them in. No doubt, your guests will love it!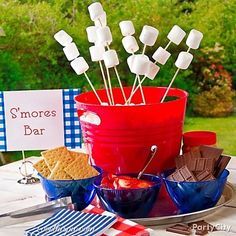 Campfires are a great summer tradition but surely add even more to the ambiance of your Fourth of July celebrations. For an extra creative take on decor, set up a s'mores bar for your bonfire (or a hotdog skewer bar!) complete with red, white, and blue plates, bowls, and sticks. It'll make the process of devouring s'mores even easier!

Finally, here's an easy trick to brighten up an area where everyone will be present… the food! To elevate the silverware, pick up colorful red, white, and blue packs and place them in mason jars. You can take it a step further and paint these jars easily with festive designs. If you don't have mason jars laying around your house, they are relatively inexpensive at places like Target, Amazon, or hardware stores.
Whatever you end up doing we hope you have a Ballsy Fourth of July full of great food, drinks, and games. If you end up making the firework drinks please send us pictures!
Cheers