Bloody Mary cocktails have been around since the early 1920s when bartender Fernand "Pete" Petiot created a version during the prohibition at Harry's New York Bar in Paris. Years after he brought the drink to Manhattan, namely in the St. Regis Hotel bar. Originally the drink was referred to by a more subtle name, the Red Snapper. At the hotel, Petiot dressed the simple drink with seasonings we associate it with today such as Tabasco, horseradish, lemon juice, and celery salt.
Others have speculated the drinks origins date back as far as the 1550s to the cruel rule of Queen Mary I of England. The tomato juice, according to this theory, represents the blood spilled whereas vodka, a firewater, symbolizes the queen's brutal way of executing martyrs.
Either way, this brunch classic brings delightful flavors and spices to vodka in a particularly unique style. However, if you do not like drinking tomatoes or perhaps want to try something new these fun recipes are just the thing for you!
Original 
2 oz. Balls Vodka
4 oz. Tomato juice
Fresh lemon squeeze
Worcestershire sauce (3 dashes)
Tabasco Sauce (2 dashes)
Prepared horseradish (.25 tsp)
Celery bitters (2 dashes) or celery salt (2-3 dashes)
Salt and pepper
Garnish: lemon wedge, celery rib, pickled green bean, bacon, etc. (Spear together for an extra festive look!
To kick off this mini rainbow of Marys, I introduce you to the Caprese Mary. Perhaps the simplest alteration, this take on the classic adds the sweet tangy addition of balsamic while keeping the drink light and of course, tomatoe-y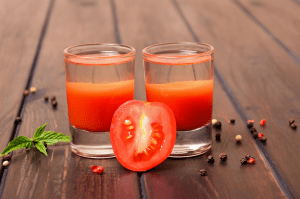 2 oz. Balls Vodka
4 oz. tomato juice
1/2 lemon, juiced
1 teaspoon balsamic vinegar
1 teaspoon Worcheshire sauce
Dash red pepper flakes
~1/2 teaspoon fresh ground black pepper
Few dashes Tabasco sauce
Spice Rim:
2 Tablespoons coarse sea salt
Generous shakes of freshly ground pepper
1 teaspoon granulated garlic
Garnish (spear together):
2–3 mini mozzarella balls
2–3 cherry tomatoes
4–6 basil leaves
2–3 olives of choice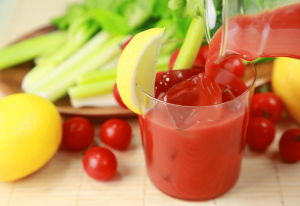 2 oz. Balls Vodka
1 oz. Lakewood Organic carrot juice
A dash of your favorite hot sauce
1 tsp. Worcestershire sauce
.25 oz ginger syrup
Lemon wedge
Add the first five ingredients into a shaker and muddle the lemon. Shake over ice, then strain into a chilled glass with a large hot sauce-infused ice cube and a large piece of ginger.
*(add Coleman's Dry English Mustard or curry powder to spice it up (you can add 1/2 tsp. to the ginger syrup)
Yellow Pepper Mary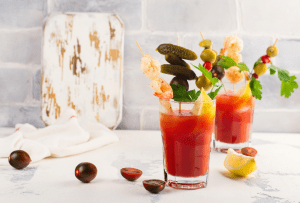 1/2 Cup Balls Vodka
3 Yellow tomatoes, washed, skinned, chopped
2 yellow peppers, washed, skinned, chopped
3 oz fresh pineapple juice
3 oz yellow beet juice
3 oz lemon juice
1 oz mango nectar
Pinch of white pepper
Splash of white balsamic vinegar
Prepared horseradish (.25 tsp)
Pinch salt
Dash mango-habanero hot sauce (or to taste)
Directions
Combine all ingredients in a blender. Blend until smooth. Rub the rims with a lime slice then roll in coarse sugar or salt. Serve chilled and garnish as desired! (See tips in Ball's Blog Garnish Post).
This green drink is a refreshing change of scenery in a sea full of red and mimosas. With a spicy kick that delivers quite a punch, you're in for a treat that is about to change the way you see your favorite mid-day cocktail.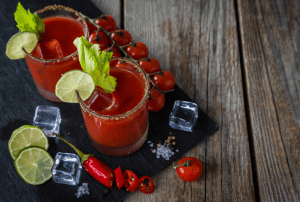 1/2 cup cold Balls Vodka
 3 medium tomatillos, husked, washed and chopped
1/2 serrano chile, seeded
1/2 English cucumber, chopped
1 tablespoon chopped fresh cilantro
Juice of 2 limes
Few dashes green hot sauce
Dash Worcestershire sauce
Tiny pinch of chipotle chili powder
Simple syrup (to taste)
Kosher salt, to taste (optional)
Lime
Coarse sugar
Directions
Combine all cocktail ingredients in a blender and blend until smooth. Rub the rim of two rocks glass with a lime slice and roll in coarse sugar. Serve chilled with ice. Garnish as desired.
With all these recipes remember to garnish well and enjoy with friends or family! Try these or take your own creative spins on the classic Bloody Mary and send in your creations to Balls Instagram (direct message) or email!