The martini is so classic and with such basic ingredients, we truly questioned whether it is possible or right to twist this drink. One popular story of the drink's origin tells that a gold miner in the mid-1800s requested a pick me up in Martinez, California during the Gold Rush. When champagne was not an option, he concocted a drink which would be known as the martini with the ingredients available. Of course, the original came with gin, not vodka.
Fun fact: when vodka replaces the gin (how Balls prefers it) it's known as a kangaroo!
One of the biggest fans of this iconic drink is James Bond with his notorious request to have his drink "shaken, not stirred." He also likes a Vesper Martini–with both vodka and gin, Kina Lillet vermouth, and a lemon peel. Although classic martinis are stirred, James Bond is an icon we all can only aspire to be when ordering at the bar.
Original:
3 oz vodka
1 oz dry vermouth
Lemon peel
This cocktail is a perfect sweet and spicy number to serve up at brunch or a girl's night.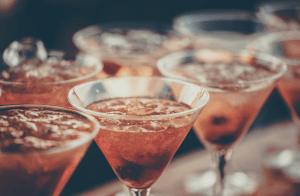 1 medium bell pepper, seeded and sliced into 2-inch pieces
¼ medium jalapeño pepper, seeded (use more or less depending on how spicy you want the drink to be)
1 lime, juiced
½ garlic clove, peeled
3 ounces Stoli vodka
1 teaspoon agave nectar or simple syrup
1 dash hot sauce, preferably Cholula
freshly ground black pepper
coarse sea salt
Instructions: 
First, line the rims with black pepper and salt if desired. Sprinkle a small plate with pepper and salt, run a lime wedge around the rims of two martini glasses, and dip the edges in the salt and pepper mixture.
In a cocktail shaker, muddle the bell pepper, jalapeno, lime juice, and garlic. You're done when the peppers have no more crunch left in them.
Add the vodka, agave or simple syrup, hot sauce, a couple of twists of freshly ground black pepper, and a dash of salt. Fill the shaker with ice, top the shaker with its lid and shake it like crazy. Strain the mixture into the prepared glasses and serve immediately.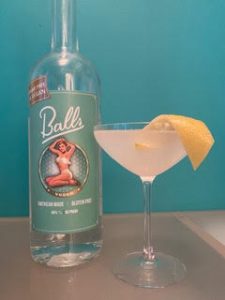 3 ounces vodka
1 ounce triple sec
1.5 ounces fresh lime juice
2 1/2 teaspoons sugar (superfine, plus extra for sugaring the rim of the glass)
Zest of lime
Lime (twist, for garnish)
Unlike a traditional martini, this one is fruit-focused, sweet, and bright.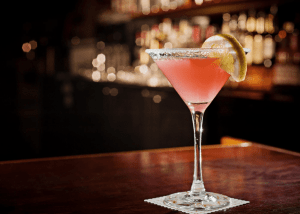 4 ounces premium vodka
3 ounces fresh pineapple juice
1 ounce Chambord liqueur
Small pinch of fine-grain sea salt
Ice
Fill a cocktail shaker with ice until ⅓ – ½ full
Pour in the vodka, fresh pineapple juice, Chambord to the cocktail shaker, sprinkle in the salt and shake vigorously for about five seconds
Pour the french martini into a chilled martini glass and serve with garnish.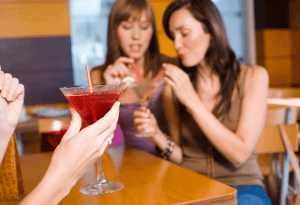 1 oz. simple syrup (recipe follows)
1 cucumber slice
1 basil leaf, torn
2 oz. vodka
Juice of 1/2 fresh lemon
Juice of 1/2 fresh lime
Ice cubes
1 cucumber wheel, for garnish
Instructions:
To make simple syrup: In a small saucepan, bring 1/2 cup sugar and 1/2 cup water to a boil; simmer until sugar is dissolved, about 3 minutes. Remove from heat and let cool completely. Syrup can be refrigerated in a glass jar for up to 1 month.
To make martini: In a cocktail shaker, muddle cucumber with basil. Add simple syrup, vodka, lemon juice, lime juice and a handful of ice. Shake well, then strain into a chilled martini glass. Garnish martini with cucumber wheel.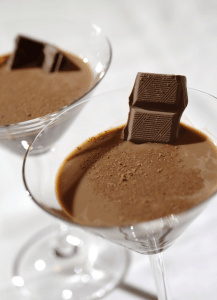 1 whole Graham Cracker
1 ounce, weight Chocolate, Melted
2 ounces, fluid Marshmallow Vodka
1 ounce, fluid Chocolate Liqueur
1 ounce, fluid Creme De Cacao
2 ounces, fluid Cream Or Half-and-Half
3 whole Marshmallows
Instructions:
Crush the graham cracker into a shallow bowl using your hands (it's okay if there are some chunky bits). Place the chocolate into a second shallow bowl and microwave or double boil for a few seconds until melted. Dip the rim of a martini glass into the chocolate and then into the graham cracker pieces. Refrigerate the glass for a few minutes to set.
Add the marshmallow vodka, chocolate liqueur, creme de cacao, and cream to a cocktail shaker. Fill with ice, shake well, and pour into the prepared glass. Spear the marshmallows on the end of a skewer or long fork and hold over an open flame for a couple of seconds until the ends get toasted. Thread them onto a cocktail pick and garnish the drink.
With all these recipes remember to garnish well and enjoy with friends or family! Try these or take your own creative spins on the classic Martini and send in your creations to Balls Instagram (direct message) or email!
Cheers!