When it comes to a party, everyone loves a bar. Even as a kid, I found myself at the bar making Shirley Temples and sneaking all the Coca-Cola off the bottom of the cart. The Fourth of July is quickly approaching, but the following tips and tricks for your home vodka bar are easy to implement and sure to be a hit year-round.
Hosting parties can sometimes be hard and planning the perfect drink menu is even more stressful. There are those who prefer sweet and others dry. Plus some people only want wine or beer. The easiest solution to this? Bar cart! This way, you can enjoy the party and everyone can satisfy their own tastes.
Keep reading to see all the tips and tricks we recommend to fill your bar as well as everyone's interests.
What You'll Need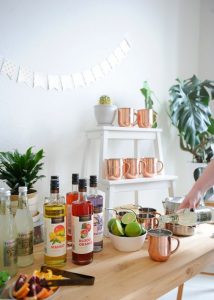 Of course, the most important aspect of your perfect bar would be the booze, so grab your beautiful bottle of Balls Vodka and place it front and center. With it being gluten-free, sugar-free, 6x distilled, and incredibly delicious, guests will sing your praises. The added bonus of using Balls with your bar is that our label, a bright and fun blue, provides instant decor for your table.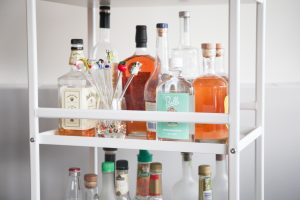 Next: Mixers 
Do-it-yourself bars like these are always fun because it allows guests to mix and match drinks to suit their exact preferences. Some of our favorite mix in liquid options include cranberry, ginger beer, club soda, lemonade, and grapefruit. For a standard cocktail, we recommend 1 part Balls Vodka and 2 parts mixer with lots of crushed ice and of course a good garnish or two.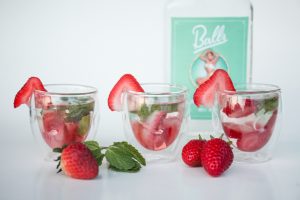 Bonus: Add-ins / Garnishes 
Garnishes improve drinks even more and add yet another layer of fun and sophistication to your home bar. Aside from the classic lemon and lime wedges we recommend mint, strawberries, apples, lavender, or candied ginger. Check out our recipe page, Instagram, or Tik Tok for more inspiration!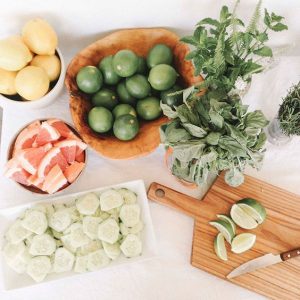 Tip: Making the bar your own
Finally, to elevate the bar's aesthetic or to simply add more of a personal touch, you have the option of using fun glasses, utensils, and barware. Mason jars are always a sweet touch but any type of personalized bar glasses look amazing if available! Likewise, the addition of measurers, shakers, and muddlers not only make your bar look professional but give the same feel to your guests working the bar themselves. From there all that's left to do is show off your cocktail creations and enjoy the party!