Dads are truly the best. They are full of embarrassing stories and terrible jokes but at the end of the day really just want you to be happy. After all they have done and continue to do for us they deserve nothing short of the best. So this Father's Day (it's June 21, mark your calendars if you forgot!) let them know just how much you love them.
We do know father figures can be hard to shop for—they often fail to give clear signals of what they want aside from a mumble here and a grumble there. We as the children, the stepchildren, the grandchildren, the nieces, and the nephews, put far too much pressure on ourselves to pick out the perfect present for these awesome men, but fear not! You're here! For all the #Vodkadads in your life we have you covered. 
Make June 21st memorable from wherever you are by gifting them something practical or totally funny. Whether he will use it daily or save it for special occasions, the vodka inspired gifts below are sure to make your dad smile.
FOR THE THINKER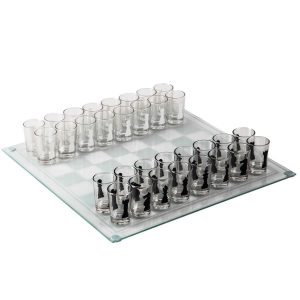 A quick Google will reveal how to make practically any popular game into a drinking game–chess is no different. If the father figure in your life loves challenging others to intellectual games filled with ballsy moves, this gift might be the perfect thing to lower his guard and steal a win! Or at least a few laughs for the family. (Tip: pair with a Super Balls Vodka for easy filling first game)
FOR THE COOK
Personalized apron with cup holder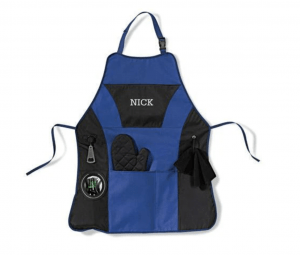 This heavy duty apron is sure to please the dad's in your life who love to live in front of the stove or grill. The cup holder feature allows them to stay part of the party while cooking up the works for everyone! This would particularly come in handy for the Fourth of July. 
FOR THOSE WHO LIKE PROJECTS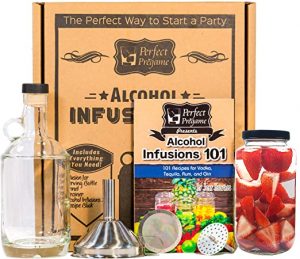 Vodka is an alcohol which works with infusions particularly well. If there is a father figure in your life who not only enjoys the liquor but also tinkering, this is the perfect gift for him! These kits can be found in a huge variety, some as complex as this one with a full guidebook while others are much simpler. There are even vodka-tea infusion kits! Infusion kits are an especially great gift for Father's Day because a vodka-strawberry or other spiked fruit makes for a perfect sweet treat on a hot summer day. 
Soda maker – If your dad loves a good vodka soda, or at least making them, a soda maker makes a great gift for fun to make fresh drinks! These are all over the market right now so a quick Google will undoubtedly pull up a number of stunning choices to match the man you have in mind. Pair the maker with some limes and some Big Balls and your father will surely have a happy day!
Bloody Mary Box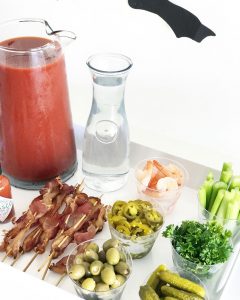 Box or Gift Basket concepts like this one are always fun gift ideas. Many websites offer premade, customizable sets with all the makings for a perfect Bloody Mary (or other vodka mixed drink). Or get creative and make your own with the exact ingredients and fun hot sauces you know your dad will love. Either way, all you need to do is add a bottle of Balls Vodka and it will be perfect and especially personal. 
FOR THE READER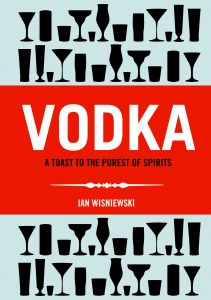 Books are a great cheat to mix passions and alcoholic interests. There are a huge variety of vodka or otherwise cocktail focused books ranging from recipes, how to infuse, history of the liquor, and more. Plug in a few key words and you will surely find a book to satisfy your #Vodkadad
FOR THE GOLFER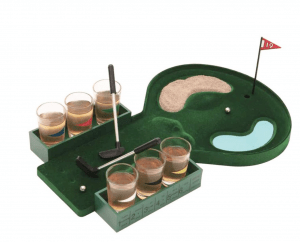 This #ballsy gift is for the dad who spends his weekends on the putting green, takes his vacations only where there's a 18-hole course, and keeps his clubs waiting in the trunk. This little course will surely get some non-golfers to play, and what else would make dad happier? Have fun making up rules and filling the glasses high. Definitely a hole-in-one with this gift. 
FOR THE LANDSCAPER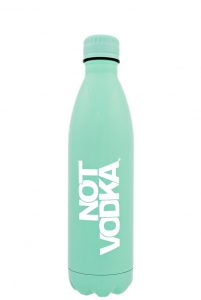 A water bottle is always nice in itself, especially for those dads who spend their Saturday's working in the yard or working out. It is always a win to buy something practical like a water bottle or shirt with a slogan inspired by the favorite things of those you love. The water bottle or even a Flask doubles as a way to keep their favorite drinks cool while working in the yard (LOL). 
FOR THE BARTENDER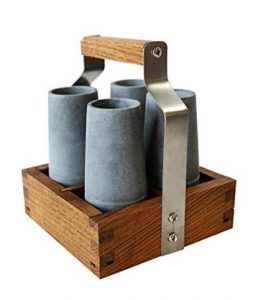 If your father figures find themselves using their love for vodka to prepare it for crowds, perhaps barware would be the best fit gift! A nice shaker or stunning set of shot glasses is a treat not every house possesses. These particular shooters are tempered to keep the contents cool. Search around and find the exact accessory your dad needs to pair with his Balls. 
FOR THE MANCAVE 
Customized Cocktail Sign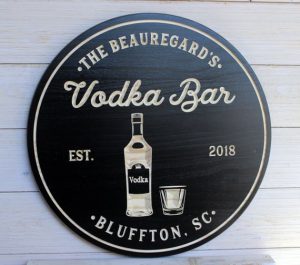 Personalized gifts are always appreciated and display especially well in one's home. If your dad has a mancave that's missing something or rocks the bar, a personalized cocktail sign might be exactly what he needs. Other great personalized gift ideas include Engraved Moscow Mule Mugs or Initialed Martini Glasses. 
FOR ANY OCCASION
Balls Vodka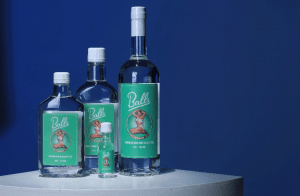 Regardless of what you decide to get all those important guys in your life, we highly recommend elevating any gift with the addition of a Balls Vodka of your choosing. Everything from the tongue-in-cheek names for various sizes to the eye catching design and high quality drink inside surely makes Balls an unbeatable simple but satisfying gift for anyone.  From our family to yours, we hope you have a Ballsy Father's Day!