It's starting to be that time when just about everything is pumpkin spiced or apple cider-y. And, I don't know about you, but after months of being trapped in a small New York apartment with the summer heat and humidity as a constant house guest, I'm ready for fall weather, and even more so… fall cocktails.
So as you snuggle into your sweaters and go get your pumpkin spiced candles, coffees, and whatever else is on the market this season, make sure to pick up some of these ingredients to let your cocktails turn a bit "fall" as well!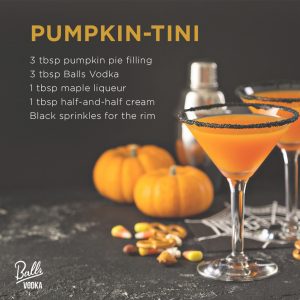 PUMPKIN – TINI
We are starting off strong with the pumpkin-tini. Because we simply can't not hop on the pumpkin spice bandwagon.
For this festive cocktail you just need pumpkin pie filling, Balls Vodka, maple liqueur, half-and-half (or a dairy-free alternative!), and black sprinkles. While it may sound strange at first, don't knock it til you try it!
Muddle the pie filling and combine with the other liquid ingredients. Shake together with ice. Use water to coat the rim of a martini glass with sprinkles before straining and pouring in the mixture. (Best served in front of a bonfire with your friends!) Enjoy!

CANDY-APPLE COCKTAIL
Now, if you're like me, pumpkin drinks might not be for you. Think apple picking, bobbing, bushels… all those things. The point is, apples are fall festive too! So here's a candy-apple inspired cocktail.
You'll need apple liqueur, cranberry juice, apple cider, an apple for decor, and of course, Balls!
Combine all liquids in a shaker with ice, shake, and then pour into a glass (ice optional). Have fun garnishing with apple wheels, slices, or even cranberries, cinnamon, or other spices to make your cocktail extra extra festive!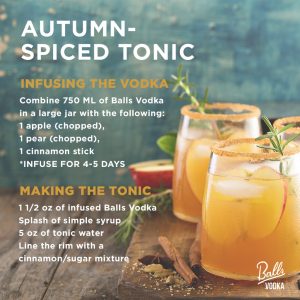 AUTUMN-SPICED TONIC
The grand finale brings us to a special infused vodka drink. This will surely impress your guests this fall with all the important flavors and spices, but be sure to plan ahead if you want to give this a try!
Infuse a chopped apple, pear, and cinnamon stick in your 750 ML (adjust recipe as needed) for 4-5 days for best results. The combine with either homemade or store bought simple syrup, tonic water, and voila!
Definitely have fun decorating your glass for this one to show your effort–try a cinnamon/sugar coated rim, or maybe an apple wheel or cinnamon star dropped in there to really enhance the flavors. Whatever you do, have fun and be ballsy!